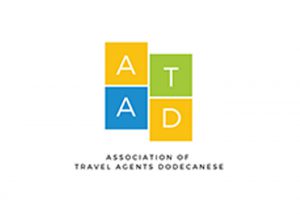 The Association of Tourist Offices of the Dodecanese is the business body of collective representation of the Tourist Offices of the Dodecanese, as well as the Operations of Maritime Agencies and Pleasure Boats. It was founded in 1970 as the Association of Tourist Offices of Rhodes and in 2020 it was transformed into the Association of Tourist Offices of Dodecanese, as the unified representation was considered necessary.
Our Members distribute all the incoming and outgoing Tourism of the Dodecanese and consist of DMC's, Cruise Agencies, Pleasure Boats and Outgoing Tourism.
The main objectives of ATAD are to serve and promote the interests of its Members and the Industry in general but also the elaboration and promotion of policies and actions for the development of Dodecanese tourism and the improvement of its position internationally. Also the development of a spirit of solidarity and cooperation between its Members, the study, protection and support of their professional interests and the collective treatment of all problems arising from the exercise of their profession
In today's complex and rapidly changing environment we are at the forefront of our Members.
Members of the Board
Christos Michalakis, President
Evripidis Samaras Vice President
Tassos Hatziliamis Secretary General
Yolanda Kappa, Treasurer
Kostas Kourounis, Member
Giorgos Ampdel, Member
Spyros Tirinopoulos, Member
E-mail: info@atad.gr
Website: www.atad.gr