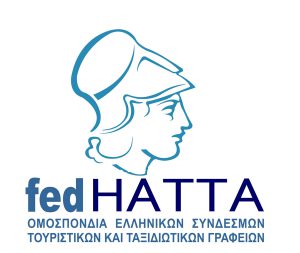 FEDHATTA, the Federation of Hellenic Associations of Travel & Tourist Agencies, is the nationwide representative of the entire travel agency sector in the relevant national, European and international organizations. Established in 2002, it aims to unite and strengthen the associations of travel agencies in Greece.
FEDHATTA, through its member associations, represents approximately 2.500 travel agencies, employing approximately 22.000 people, across Greece.
FEDHATTA member agencies span the range of tourism products – conference & event, cultural, religious, recreational, yachting, luxury etc. tourism – and include coach companies. The agencies develop the Greek tourism product and handle all aspects – hotels, airline and ferry tickets, transfers, tours, visits to archeological sites, conferences – for Greek and foreign travelers throughout the country.
FEDHATTA actively seeks the unification of all primary employer trade associations of the country, whose members are active in tourism enterprises (travel agencies), in order to study, preserve and develop the economic, professional, insurance, social and trade interests of its members and the industry as a whole.
FEDHATTA pursues the development and promotion of Greek tourism and contributes to the effort of the country for the expansion and enhancement of tourism services.
FEDHATTA acts as the official consultant to and interlocutor with the State in all matters concerning the tourism industry and has a determining role in the elaboration of the developmental policy for tourism and the formulation of the national strategy regarding the promotion of the tourism product, in cooperation with all competent Greek, European and international tourism entities and organizations.
FEDHATTA's diverse activities include:
Organizing events, seminars, and discussions focused on various aspects of tourism, with the aim to inform and exchange views on matters of interest to the industry
Participating in trade shows, roadshows, and business missions in Greece and abroad for the promotion of Greek tourism
Organizing fam trips for fo'reign tourism professionals and B2B meetings, to open new tourist markets, but also to consolidate the country's position in its traditional markets
Cooperation with state entities and private companies of the Greek and international tourism industry in order to upgrade trade practices and improve collaboration with travel agencies
Design and development of innovative products to enrich the tourist product and lengthen the tourist season