TELECONFERENCE ITTAA – FedHATTA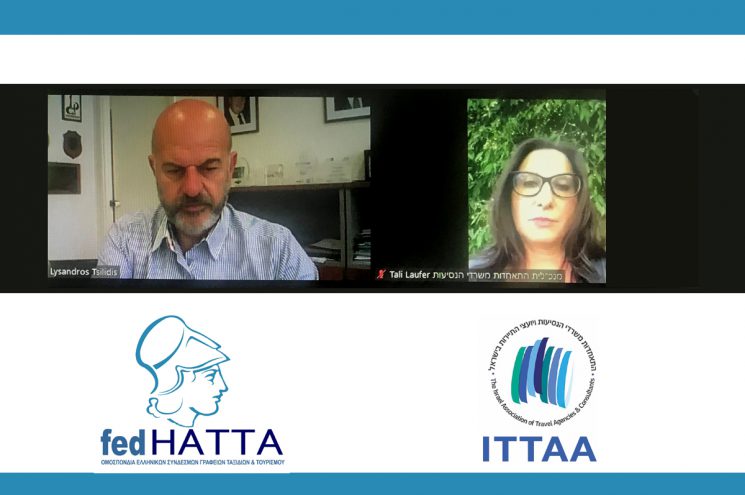 Representatives of the Israel Association of Travel Agencies and Consultants (ITTAA) and the Federation of Hellenic Associations of Travel & Tourist Agencies (FedHATTA) met today via teleconference to exchange information on the situation in Greece, as it is following the measures aiming to restrict the spreading of Covid-19, and thoughts on the future movement of Israelis to our country.
The Greek side informed about all the recent restrictive measures that apply in the country in general, but also about the measures that specifically concern the permanent residents of Israel who wish to visit Greece.
The Israeli side confirmed the interest of its inhabitants for travel and holidays in our country, which they love very much, and proclaimed their satisfaction that Greece is still on the green list for travel, although this is something that can change  at any time.
There is still a small margin until the end of this year, for those visitors who have no other commitments, to organize a trip to Greece.
However, the efforts are mainly focused on next spring, and the beginning of the new tourist season, for which there is significant interest. Depending on the circumstances, the number of visitors may not be what we are used to in previous years. However, we all hope that it will be bigger than the one of this summer, which was practically non-existent, so that the tourism of the two countries may return to normality as soon as possible.
In the meeting, ITTAA was represented by its CEO Mrs. Tali Laufer and FedHATTA by its President Mr. Lysandros Tsilidis.
Also in attendance were, Israeli representatives from the Aviation Task Force of the Ministry of Health and from the Foreign Affairs Ministry who wished to be informed about all the recent developments on the subject.