Presentation of EMTTAAS at the 6th Summit of Travel Agencies Associations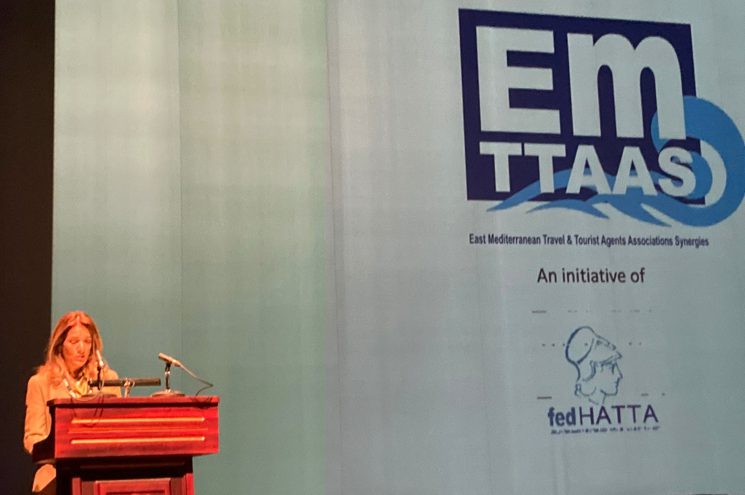 At the 6th Summit of Travel Agencies Associations, held 3-6 November in León, Spain, Vasiliki Skagia, board member of Hatta, presented EMTTAAS – East Mediterranean Travel & Tourist Agents Associations Synergies.
One hundred participants from twenty-five countries attended the Summit, during which they presented and discussed the current situation in the industry and its prospects for the future. Among the issues addressed at the Summit were the state of aviation schedules, which are key to restoring mobility, as well as sustainability and digitalization.
Ms. Skagia showcased EMTTAAS as a model of international synergies between organizations aimed at reviving tourism demand in the Eastern Mediterranean, as part of the panel "Time to Share" at the Summit, organized by the Spanish Confederation of Travel Agencies (CEAV). The presentation caught the attention of delegates, in view of the need to develop cross-border synergies to restart global tourism – the central theme of the Summit.
"The aim is to create an effective network of synergies, in essence a cooperation between the tourism operators of the participating countries for the benefit of the tourism industry," Ms. Skagia emphasized during the presentation of EMTTAAS.
The primary goal of EMTTAAS is to build cooperation across the tourism industries in the Eastern Mediterranean to develop new products and synergies. EMTTAAS members – Greece, Cyprus, Israel and Egypt – jointly undertake B2B and roadshow events, cooperate on legal and other issues affecting tourist flows between their countries and cooperate to develop new products.
The Summit of Travel Agencies Associations is organized every 2 years and is the platform of meeting, exchange of views and discussions between the associations of tourism professionals from all over the world.