Jordan is an ideal destination for Greeks with an interest in religious and cultural tourism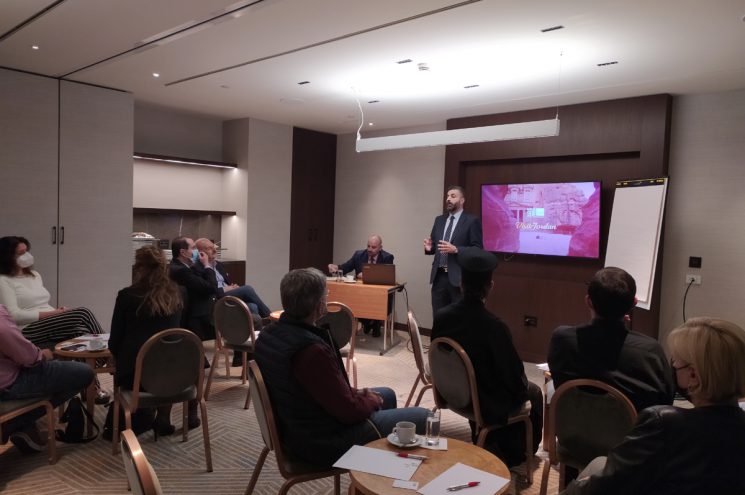 A presentation and briefing on the resumption of tourism in Jordan, organized by the Tourism Organization of Jordan on Wednesday, October 20, in Athens, was attended by members of FedHATTA and HATTA, who specialize in the Arab markets.
From the Jordanian side, the presentation was attended by: General Manager and Member of the Board, Ahmad Alhmoud, Religious Tourism Specialist and Member of the Board, Amer Al Twal of the Tourism Organization of Jordan, Consul General of Jordan Ashraf Khasawneh and Despina Manta, Honorary Consul of Jordan as well as Zakaria Abbadi, Area Manager Greece & Cyprus of Royal Jordanian.
The Greek tourist offices were represented by the president of FedHATTA, Lysandros Tsilidis, while the presentation was attended by representatives of the largest tourist offices – members of HATTA, inbound and outbound tourism, specializing in Arab countries.
During the meeting, the representatives of the Tourism Organization of Jordan presented new and established destinations of historical and religious interest in Jordan and provided the necessary information on the current procedures and restrictions due to COVID-19, but also on their planned relaxation, to encourage the resumption of trips to Jordan.
At the same time, an increase in Royal Jordanian air connections to and from Greece for the post-COVID era was announced.
The President of FedHATTA, Lysandros Tsilidis, stated: "An amazing presentation was made for destination Jordan and the representatives of the Greek tourist offices that participated had the opportunity to learn more about a destination of great cultural and religious interest for Greeks travelers. This is a friendly country adjacent to Greece. We aspire to continue the cooperation between the tourism associations of the two countries, in order to have mutual tourism benefits. In the Greek market there is interest in travel to Jordan, especially to Petra and to the Jordan River, for religious reasons."
The event was held under the auspices of the Tourism Organization of Jordan and in collaboration with the Jordanian Embassy in Athens and the Jordanian Consulate in Thessaloniki.