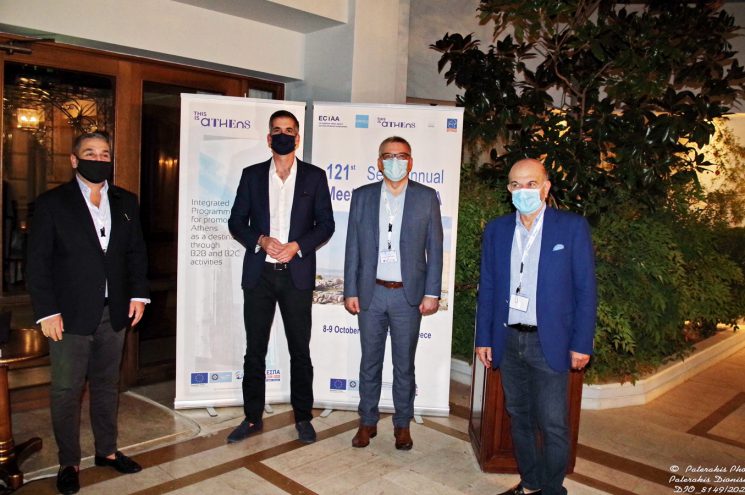 The 121st Semi-Annual Meeting of ECTAA (The European Travel Agents
and Tour Operators Association) was held on October 7-9 in Athens, through the initiative of HATTA, and with the support of the Development and Tourism Promotion Company of the Municipality of Athens (EATA).
The Mayor of Athens, Kostas Bakogiannis, welcomed the participants on Wednesday, October 7. The Mayor expressed the importance of the event in Athens, at a particularly difficult time for the global tourism industry due to the effects of the pandemic. "It is an opportunity to promote the capital as a safe, attractive destination," he said.
The work of the Conference started on Thursday, October 8, with the participation both in person and online of all the representatives of the members of ECTAA and HATTA.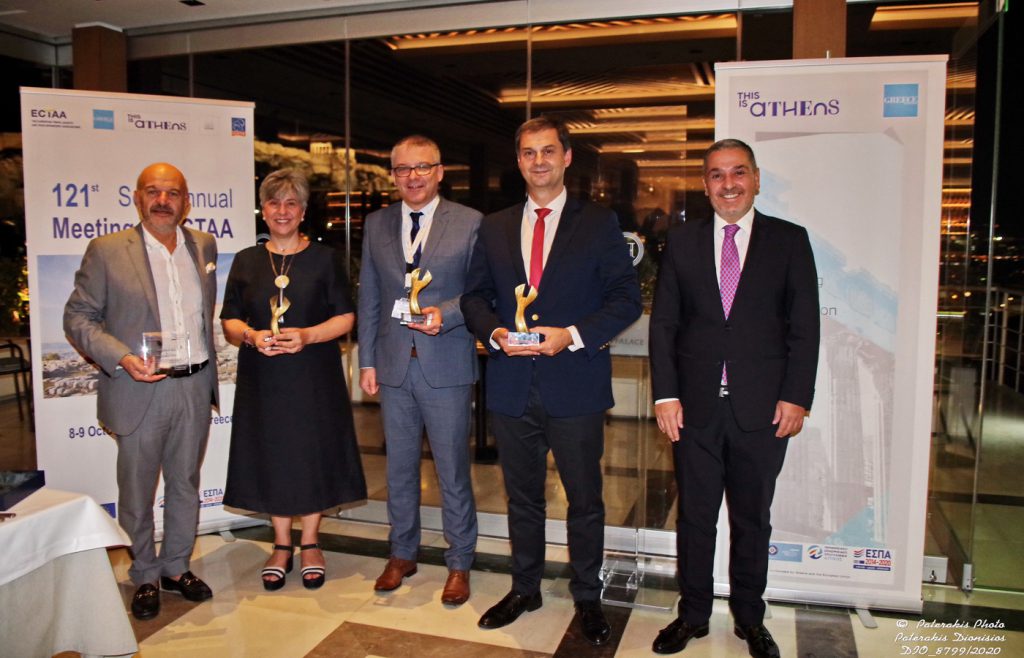 On the same day, a gala dinner was held, which was honored by the presence of the Minister of Tourism, Haris Theocharis, addressing the representatives of ECTAA. The Minister had the opportunity to talk with the representatives of the European associations of tourist offices and tour operators and to discuss their concerns, but also the ways to normalize the situation in travel.
The event was also attended by Aegean Airlines, which was represented by Sales Manager for Athens & Central Greece, Eleni Vlachou, while the Commercial Director of Aegean Airlines, Roland Jaggi, also addressed a greeting.
During the dinner, HATTA offered to the Minister of Tourism, to the President of ECTAA, Pawel Niewiadomski, and to the President of EATA, Melina Daskalaki, souvenirs along with thanks for the support of the activities of the Association.
In addition, the President of ECTAA presented a commemorative plaque to GNTO for the promotion of Greece as the Preferred Destination of ECTAA for the 2nd half of 2020. Finally, Pawel Niewiadomski, President of ECTAA and the President of HATTA, Nikolas Kelaiditis, presented Lysandros Tsilidis, President of FedHATTA, with a plaque for his tireless and ongoing contribution to the tourism industry.
On the last day of the Conference, October 9, ECTAA elected a new Board of Directors and the re-elected the President Pawel Niewiadomski, (Poland), Eva Blansco (Spain) as Vice President as well as Marios Kammenos, Vice President of HATTA, as Treasurer.
On the sidelines of the ECTAA Conference, Mr. Kelaiditis made the following statement: "Athens is once again at the center of an international event, which symbolically highlights the Greek capital, even in the midst of a pandemic, as an ideal destination for safe and quality travel. By choosing to hold its Conference in our city and by the physical presence of its members, ECTAA sends a strong message throughout Europe that the organization of safe and efficient travel has always been the cornerstone of travel agencies and that when the necessary protection measures are taken, it is absolutely safe to travel. We are very pleased to have hosted this important event."