Kos makes a play for Israeli tourists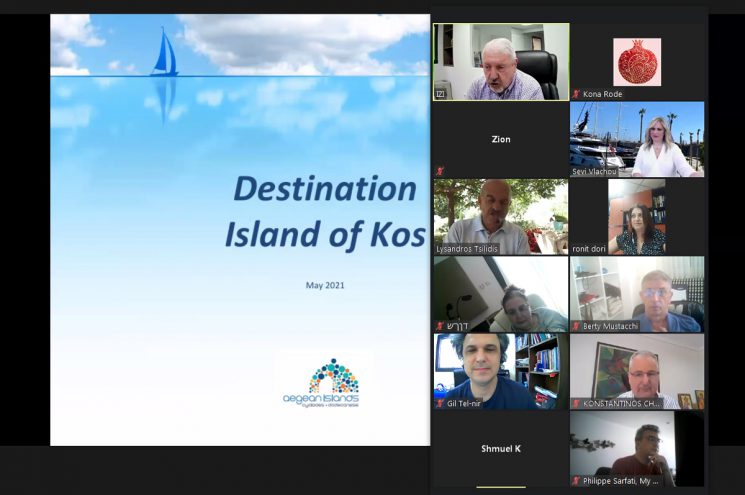 The South Aegean Region organized a webinar to present Kos to Israeli travel agents, in collaboration with FedHATTA
In a very positive atmosphere, Kos was presented to Israeli tour operators and travel agents in an online event on May 26. This is an initiative of the South Aegean Region in collaboration with FedHATTA the Association of Tourist Offices of Israel, ITTAA. The presentation was made by Konstantinos Chrysochoidis, Consultant for Tourism Development, and Sevi Vlachou, Deputy Mayor of Tourism, Culture and Sports of Kos.
The Israeli travel professionals had the opportunity to learn useful information about Kos as a destination, its notable sights, its long and interesting history, and all the many ways a traveler can enjoy a stay on the island.. They were also informed about the current health and safety measures due to the pandemic, as well as the direct flights to the island, which are planned from the beginning of July.
The presentation will remain freely available online, along with other information, so that all members of the Association of Travel Agencies of Israel, even members who did not participate in the presentation, can gain a comprehensive picture of Kos.
The choice of the Israeli tourist market was made based on a study regarding the preferences of Israeli travelers, which correspond what the island of Hippocrates has to offer visitors. In particular, Israeli travelers love to travel more than twice a year, preferring high-budget facilities primarily. They love the islands and the activities in the sea, and have an interest in local cuisine. Most of all, however, they are looking for experience trips, which are related to the culture and history of the places they visit.
The action is part of a comprehensive plan for the promotion the South Aegean Region that is targeted for each market and each island separately.