Greece – Israel: A tourism link that will endure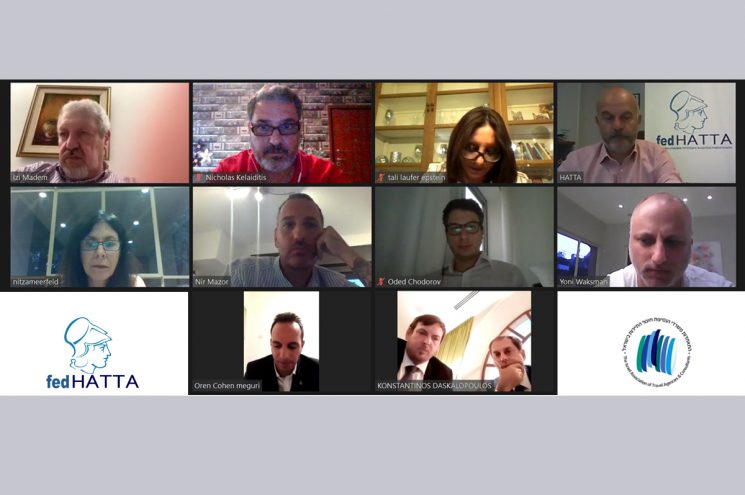 On Tuesday, 16 June 2020, a meeting was held via teleconference between the associations of tourist offices of Israel and Greece, on the initiative of the Presidents of the Israeli ITTAA, Jacob Karni, and FedHATTA, Lysandros Tsilidis, on the subject of the resumption of tourism in the two countries after the forced temporary cessation due to the COVID-19 pandemic.
In addition to Mr. Tsilidis, who moderated the discussion, the teleconference was attended by the Ministers of Tourism of Israel, Assaf Zamir, and of Greece, Haris Theocharis, the President of HATTA, Nicholas Kelaiditis, the General ITTAA Director, Tali Laufer, and representatives of travel agencies and tour operators in Israel: Oded Chodorov (Diesenhaus), Oren Cohen Meguri (Flying), Izi Madam (Easy Travel), Yoni Waksman (Ophitours), Avinohet Oshri ), Nitza Merfeld (Issta) and Nir Mazor (Aviation Links).
At the beginning of the discussion, the President of HATTA, Mr. Kelaiditis, addressed the participants and praised the excellent relations both between Greek and Israeli travel agents, as well as between the associations of the two countries.
All participants in the discussion agreed that the tourism relationship between Greece and Israel, both in outbound and inbound tourism, is very important and Israeli tourism professionals said they are ready and excited about the resumption of trips to Greece, which is an ideal destination for Israeli travelers.
As things stand at the moment, the resumption date of trips between Israel and Greece will be 1 August 2020. Professionals would like the border to be opened earlier and the two Ministers said they are working very closely together to make a safe resumption of tourism between the two countries reality. If possible, the start date can be moved earlier, but the suitability of the conditions is examined from week to week.
Israeli travelers especially prefer Rhodes, Crete, Athens, Thessaloniki, Volos, Lefkada, Corfu and the Sporades and Israeli tour operators said they have very good relations with their Greek counterparts. The close cooperation between FedHATTA and ITTAA continuously enriches this relationship.
Mr. Tsilidis underlined the fact that the Greek tourist offices of outbound tourism have started to promote Greek tourism to Israel, with tourist packages that place special emphasis on religious tourism, apart from purely leisure packages. Short trips of three days and city breaks are of particular interest to Greek travelers, but, as Mr. Tsilidis noted that having more affordable hotel prices in Tel Aviv and other cities is key to increasing tourist traffic from the Greek side.
All participants in the discussion pledged to work intensively to bring tourism between Greece and Israel back to the level it was before COVID-19 and to further improve the travel flows between the two countries.