European travel agents and tour operators resume Greek tourism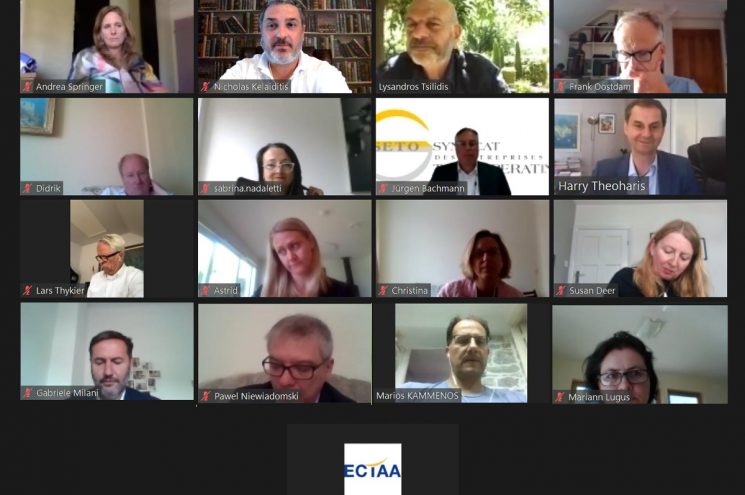 The significant role of European travel agents and tour operators in restoring the tourism market to normalcy and resuming Greek tourism became apparent in a teleconference held on Friday 12 June.
The representatives of the European Associations raised the issues that concern each country, which plans to send tourists to Greece, and their questions regarding the procedures and any details that will make possible the resumption of the flow of travelers to our country and maintaining and increasing it subsequently.
They requested timely information in English about the health and safety protocols, as well as all instructions regarding the resumption of Greek tourism (health inspection issues, quarantine procedures, land border opening dates, restrictions on land ships and tourist buses, etc.), so that European travelers are prepared for what they will encounter and know in advance what is required.
They stressed the enormous importance of an immediate and dynamic advertising campaign for Greece, which will retain customers who have already booked their holidays, so as to avoid further cancellations for the months of July and August and will attract new travelers for September and beyond to extend the tourist season and reduce financial losses. If this ad campaign starts later, it will not make real sense anymore.
The representatives of the Northern Countries, who have not yet opened their borders for their citizens to travel, but who are particularly interested in traveling to the South and especially to Greece, asked for the assistance of the Greek government to push for the opening of highlighting the good results of our country at all levels in terms of Covid-19 and presenting all the measures taken in order to remain a safe destination.
The participants in the discussion stressed the need for direct flights to and from the Greek islands and the possibility of charter flights, since having to connect via Athens or Thessaloniki could discourage travelers. They also asked that a way be found to continue to provide value-added services to the tour packages, such as spas, kids clubs and other facilities to prevent cancellations.
They further asked for assurances that the vouchers given by Greek hotels to tour operators abroad, instead of returning the advances they have paid for services that were not provided, are guaranteed in case of insolvency of the hotels in the future, while they also expressed concern for any differences in prices when the vouchers are later used to arrange other trips.
Lysandros Tsilidis, President of FedHATTA, stressed the need to inform foreign tour operators in a timely manner about any changes that arise in matters such as availability of transportation etc., since the planning of organized tours takes place long before the trip itself.
The Minister of Tourism promised immediate information for the members of ECTAA, in English, regarding the protocols, instructions and any other necessary information related to the restart of Greek tourism, while assuring them that the strategic planning of the advertising campaign is in its last stage and will then be given to GNTO to carry out.
Lysandros Tsilidis, President of FedHATTA said: "The European Associations of Tourist Offices had specific positions and questions about the way Greece deals with this extraordinary situation. They received answers. We are convinced that Greece will prove its responsibility, nevertheless we do not rest and our contact with the Ministry of Tourism is continuous, precisely for this purpose. Our only goal is to ensure the rules of health, safety and confidence for European travelers."
The teleconference was attended by the Minister of Tourism Haris Theocharis, the President of ECTAA and President of PIT, Pawel Niewiadomski, the President of FedHATTA Lysandros Tsilidis, the President of HATTA Nicholas Kelaiditis, the Treasurer of ECTAA and Vice-President of HATTA Marios Kammenos, as well as CEAV Director and ECTAA Vice President Eva Blasco (Spain), ANVR CEO, ECTAA Director, ECTAA Executive Board member Frank Oostdam (Netherlands), DRF CEO, ECTAA Director, ECTAA Executive Board member Lars Thykier (Denmark), SMAL CEO, ECTAA Director, ECTAA ExBoard member Heli Maki Franti (Finland), ABTA, ECTAA Deputy Director Susan Deer (UK) SETO Secretary General, ECTAA Director Juergen Bachman (France), WKO Board Member Andrea Brenacher (Austria), SRF CEO, ECTAA Director Didrik von Seth (Sweden), VIRKE CEO, ECTAA Director Astrid Bergmal (Norway), CEO – FTO Gabriele Milani (Italy), Board Member – FTO Sabrina Nadalet (Italy), CEO EFTL, ECTAA Board Member Mariann Lugus (Estonia). Also present were the associate of the Minister of Tourism Pavlos Kouris and Eric Dresin, Secretary General ECTAA, and Christina Russe, Deputy Secretary General ECTAA.