Jordanian Tourism Organization hosts event in Athens with FedHATTA support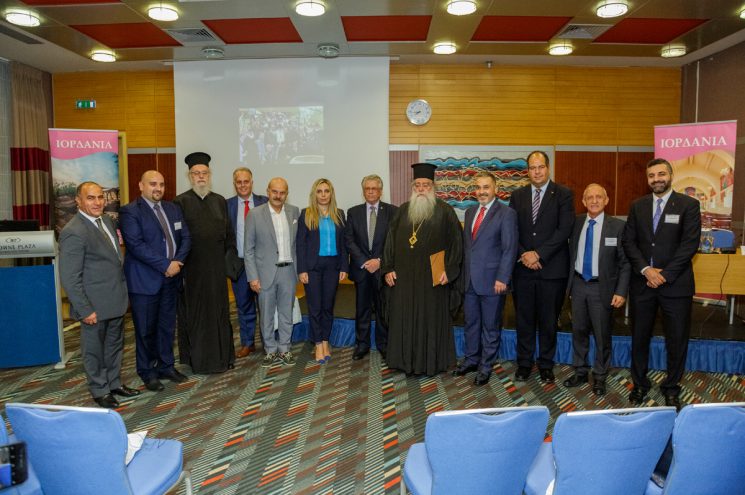 Athens 7 October 2019 | In an initiative to develop and strengthen tourism to Jordan, the Jordanian Tourism Organization hosted the event "Meet Us in Athens! Jordan: a Historical, Cultural & Religious Destination," on 26 September 2019 at the Crowne Plaza Hotel in Athens.
The aim of the event was to build closer cooperation with the Greek tourism industry and to promote Jordan as a tourism destination with a clear focus on religious tourism. FedHATTA has as one of its priorities to forge greater cooperation between tourism professionals in the Eastern Mediterranean and is supporting this initiative by the Jordanian tourism authorities. Speaking at the event, FedHATTA Vice President Nikolaos Kelaitidis stressed that Greek tour operators will welcome this initiative.
In his speech, Ahmad Al-Hamoud, Marketing Director of the Jordanian Tourism Organization, highlighted the prospects for religious tourism due to Greece's direct air link with Jordan, via Athens and soon through Thessaloniki. The event featured presentations of Christian pilgrimage, history and culture in Jordan, which has strong historical ties to Greece.
The presentation was also supported by the cooperation of the Holy Synod of Greece with a greeting by its representative, Mr. Christos Petra, and Benedict, His Holiness Metropolitan of Philadelphia, also spoke, emphasizing that, "Jordan is a modern and secure country, in which all religions are practiced with perfect freedom."
Ambassador of Jordan to Athens Mr. Ashraf Khasawneh pointed out in his speech that, "the Embassy supports all efforts for the joint development of tourism and in general the synergies and relations between the two countries."
Also speaking at the event were Antonia Dimou, representing the Greek Minister of Tourism, Mr. Theocharis, Rustom Mkhjian, Director of the Jordan River Commission and Amer Al-Twal, Religious Tourism Specialist, Jordan Tourism Organization. Among the distinguished guests were George Bonanos, US Embassy Specialist for Trade, Edgar Alvarado Salamanca, Deputy of the Embassy of Peru, Christina Ceban, Representative of the Embassy of the Republic of Moldova, Nikolaos Vassiliou, of the international relations committee of the Athens Chamber of Commerce and Industry, and representatives of the Royal Jordanian Airline.
The event was organized under the auspices of the Jordanian Ministry of Tourism in cooperation with the Jordanian Embassy, Ambassador of Jordan to Greece Ashraf Khasawneh, and the Jordanian Consul in Thessaloniki, Mrs. Despoina Manta.