ASTA Members Enthusiastic about Visit to Greece and Planning a Return in November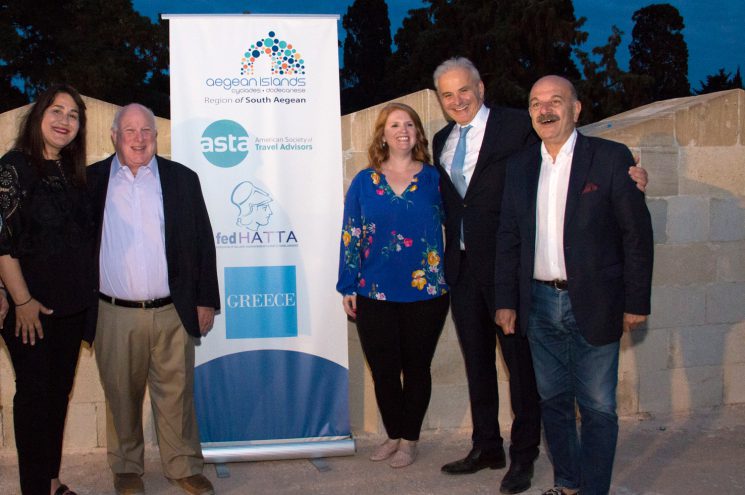 Athens 23 May 2019 | Giving exuberant feedback on Rhodes, Athens and Santorini, the B2B meetings with local tourism professionals and fam trips, the American travel advisors who participated in the ASTA International Showcase in Rhodes, 12-16 May, have returned home with unforgettable memories of Greece.
The Showcase followed the highly successful ASTA Destination EXPO held in Athens in April 2018 and was organized by ASTA (American Society of Travel Advisors) in collaboration with FedHATTA (Federation of Greek Associations of Travel & Tourist Offices), the Ministry of Tourism and under the auspices of the Greek Tourism Organization.
The Showcase was focused on Rhodes, but the participants also had opportunities to visit Santorini and Athens, as well as cruise the Aegean Islands. The American travel advisors were overwhelmed by the hospitality, sights and beauty of Rhodes and are eager to promote it to the American travel market.
During the last day of the ASTA International Showcase, on Wednesday, May 15, B2B meetings between US travel advisors, Greek tourism professionals and Greek hotels were held in Rhodes where cooperation was explored.
"The exchange of views on cooperation was very positive and such initiatives are those that the island needs in order to achieve further tourism development and reach the big markets," said FedHATTA President, Lysandros Tsilidis, commenting on the success of the B2B meetings.
After the meetings, cocktails were served on the Celestyal Olympia cruise ship in the port of Rhodes, during which the US visitors were briefed on the Greek cruise industry. In the evening they were fêted with a glittering farewell dinner, organized by the Region of the Aegean and the Rodos Palace Hotel at the Grand Master's Palace.
At the dinner, ASTA Vice President, Robert Duglin, thanked the Under Secretary of Tourism, Sports and Culture, Marieta Papavassiliou for her contribution to the ASTA International Showcase and assured her that US travel advisors would be promoting Rhodes and the Dodecanese to the US market.
The next ASTA Destination EXPO 2019 scheduled for November in Israel, will include fam trips to Greece and Cyprus, thanks to FedHATTA's systematic initiatives, through EMTTAAS, to promote collaborative tourism development in the Eastern Mediterranean.
Mr. Tsilidis said: "American tourists are of vital importance to Greece and the Greek islands. With this in mind, we are coordinating with the tourism sector in the greater region of ​​the Mediterranean through EMTTAAS. A further opening to the US market has been achieved, but our efforts to strengthen US arrivals in our country are continuing at a steady pace."
The cooperation between FedHATTA and ASTA will continue with the planned Roadshow scheduled in collaboration with NORTH EVENTS for 2019 in the US.