GNTO recognized as Best Partner by ASTA, as US tourism flows to Greece soar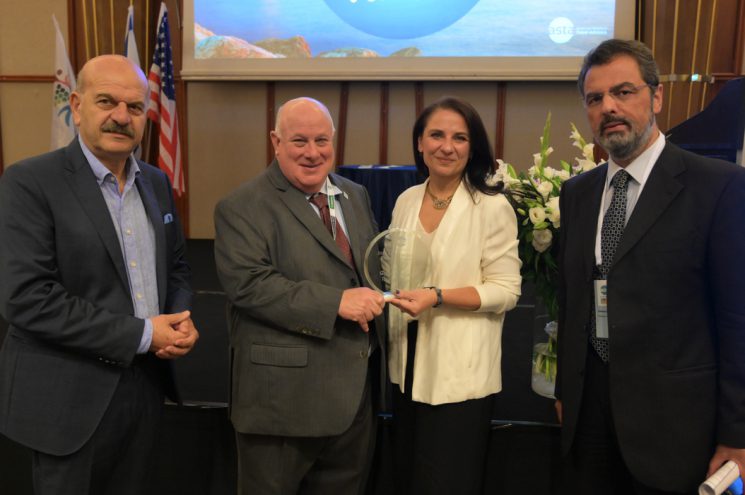 Athens 28 November 2019 | With tourism flows to Greece from the US jumping almost 50% in the first half of 2019, the Greek National Tourism Organization (GNTO) was awarded the Best Partner for 2019 by ASTA (American Society of Travel Advisors), the largest association of tourist agencies in the US.
Ten thousand US tour operators, members of ASTA, nominated GNTO as the Best Partner of the Year in a special vote. The prize was awarded to GNTO during the ASTA Destination Expo in Israel (10-14 November), and the honorary plaque was received on behalf of GNTO by Barbara Avdi, Deputy Secretary General.
The award comes on the heels of the highly successful ASTA Destination Expo held in Greece in 2018. The event brought hundreds of American travel advisors to Athens and numerous of the most popular destinations in the country: Crete, Corfu, Santorini etc. The success of the Destination Expo led to ASTA returning to Greece in 2019 for an International Showcase event featuring Rhodes and the South Aegean.
FedHATTA, with the auspices and support of GNTO, has been instrumental in forging international partnerships for the Greek tourism industry, starting with the hosting of the annual conference of ITTAA, the Israeli Association of Travel Agents and Consultants, in 2016.
The ASTA Destination Expo in Israel included fam trips to Cyprus, thanks to FedHATTA's systematic initiatives, through EMTTAAS, to promote collaborative tourism development in the Eastern Mediterranean.
The response from both US and Israeli travel advisors has been overwhelmingly positive, and data indicate that tourism flows from both markets to Greece will continue to grow next year. ITTAA reports that Israeli visitors to Greece have risen from 909,574 in 2015 to 1,354,044 today.
Lysandros Tsilidis, President of FedHATTA, attended the awards ceremony in Israel and said: "As we have seen tangible results from our excellent cooperation with both ASTA and ITTAA, it is important for us to to continue the momentum with roadshows, involving also the regions and Greek tour operators. We also plan, in cooperation with GNTO, to participate in ASTA conferences in the US, which bring together thousands of tourism professionals".