FedHATTA & HATTA sign Memorandum of Cooperation with ASTA. Tourism between Greece and America is on a solid foundation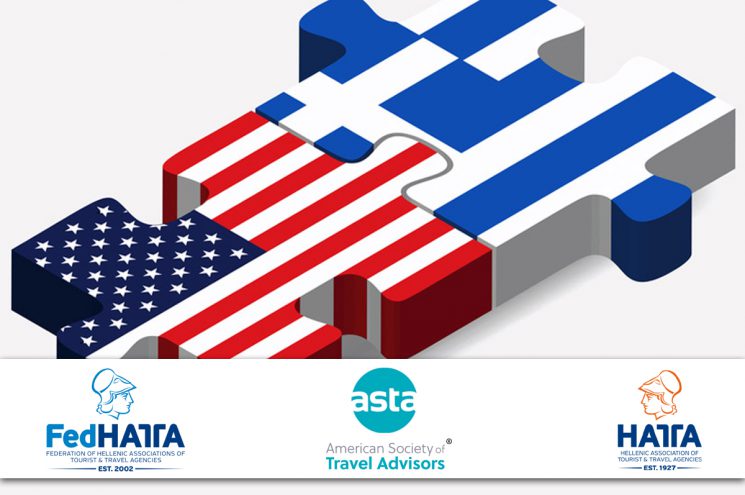 HATTA and FedHATTA have signed a Memorandum of Cooperation (MoC) with ASTA (American Society of Travel Advisors), the largest association of travel agencies in America, renewing the existing MoC of 2018.
With the MoC, the leading organized tourism agencies of America and Greece recommit to undertake joint initiatives for the two-way support of tourism development. The cooperation of the Greek tourist offices with ASTA includes knowledge sharing, as well as further development of two-way tourist flows by organizing events, such as business trips and seminars, for tourist offices and travel consultants, as well as PR initiatives in the two countries, when it is judged that there will be benefit from them.
The president of HATTA, Nikolas Kelaiditis, said: "We are particularly pleased with the expansion of our consultation and cooperation with ASTA, which is officially launched with the signing of the MoC and will be made possible through joint efforts aimed at tourism development. HATTA and FedHATTA continue on the path forward for tourism: forging international cooperation and synergies."
The president of FedHATTA, Lysandros Tsilidis, said: "ASTA, as the representative of a particularly important market of travelers for Greece, the American one, continues to be our strong ally in the development of Greek tourism. Greek tourism professionals have much to gain from the exchange of best practices, knowledge and agreements with American professionals. The renewal of the MoC highlights the special interest shown by the American market in our cooperation to benefit tourism in both countries".