Top meeting of Greek and German tourism with strategic steps of GNTO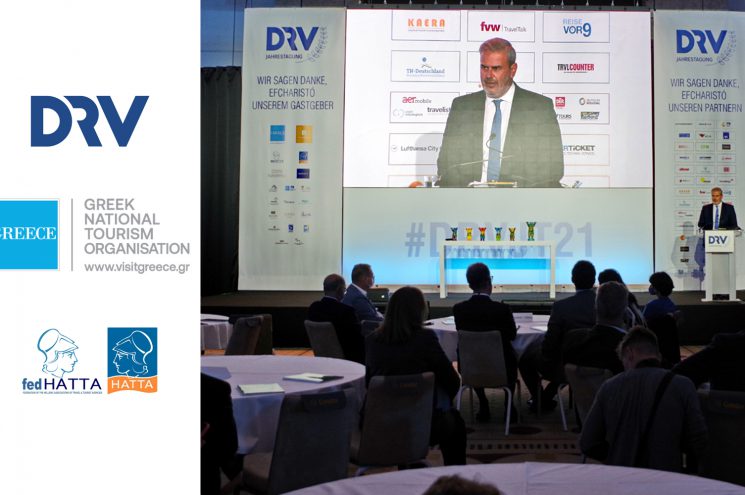 Having shouldered the difficult but also creative path of the resumption of Greek tourism, in a challenging period, GNTO made another important move by organizing the annual conference of the Association of German Travel Agents – DRV, in Greece.
The conference was widely covered by the German tourism media, and in addition to the German representatives of major travel agencies and tour operators, the Presidents of the Swiss and Austrian Tourist Associations also attended.
The General Secretary of GNTO, Dimitris Fraggakis, met with the German professionals, but also the Presidency of DRV, and discussed issues of tourism in Greece, Germany and Europe in general.
This year's DRV annual conference in Greece was a strategic step for Greek tourism, because the country's driving economic sector, tourism, connected with a key European partner. The German tourist market is a particularly important source of inbound and outbound tourism for Greece. For this reason, GNTO collaborated with the Peloponnese Region, Aegean Airlines, TEMES SA, FedHATTA and HATTA, for its realization, a fact that led to a successful event.
At the initiative of the GNTO Administration, representatives of the country's Regions were invited and participated in the conference, in order to promote Greece as a whole in the German market.
Regarding the tourist traffic from Germany to Greece, it is worth mentioning that in 2019 there were 3.7 million arrivals of German travelers and the goal is to restore and further increase this in the post-Covid 19 era as well as to lay the foundations for stimulation of winter tourism in Greece with an emphasis on environmentally responsible tourism.