FedHATTA and ASTA: Promoting Destination Greece to the US travel market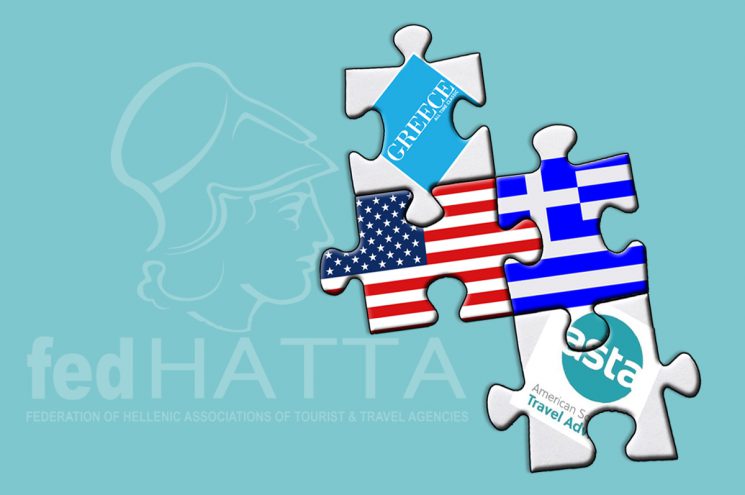 In the midst of this critical period, FedHATTA responded to the call of ASTA (American Society of Travel Advisors), for another large-scale cooperation, in the framework of their Cooperation Agreement for the undertaking of joint actions for Tourism of the two countries.
Specifically, the Global Convention 2020 of ASTA, due to the pandemic, takes place online, and the presence of Greece as one of the participating countries is particularly dynamic.
The presentations of the Convention are intended to introduce travel advisors and tour operators in the US and other countries to the destinations of the countries presented.
FedHATTA undertook to create, for this purpose, a video, which was honored by the presence of the Ambassador of Greece to the USA, Alexandra Papadopoulou, the US Ambassador to Greece Geoffrey R. Pyatt, but also the Minister of Tourism Haris Theocharis and the General Secretary of GNTO Dimitris Fragakis.
FedHATTA also created a digital magazine, which presents thematic forms of tourism in Greece to North American tourism professionals. The Ministry of Tourism and GNTO participated in this initiative, with rich informative and promotional material, specially designed for the American market.
The President of FedHATTA, Lysandros Tsilidis, stated: "The participation of the Ministry of Tourism and GNTO in the broad and targeted presentation for the ASTA Global Convention gives us optimism, as any critical period of time can only be addressed through action. The US tourism market is a source of strength in inbound and outbound tourism, mainly in incentive and conference travel, thematic tourism, yachting and cruising. The synergies we have been developing with ASTA in recent years have already borne fruit, and I am confident that we will have very important results from this online event."
Travel advisors and tour operators – members of ASTA in the US and other countries, will have the opportunity to learn more about Destination Greece, on August 25-28, and have meetings at the virtual booth of GNTO that will be operating throughout the event.