WTAAA: Five continents meet in Athens for global organized tourism – Greece again at the center of travel developments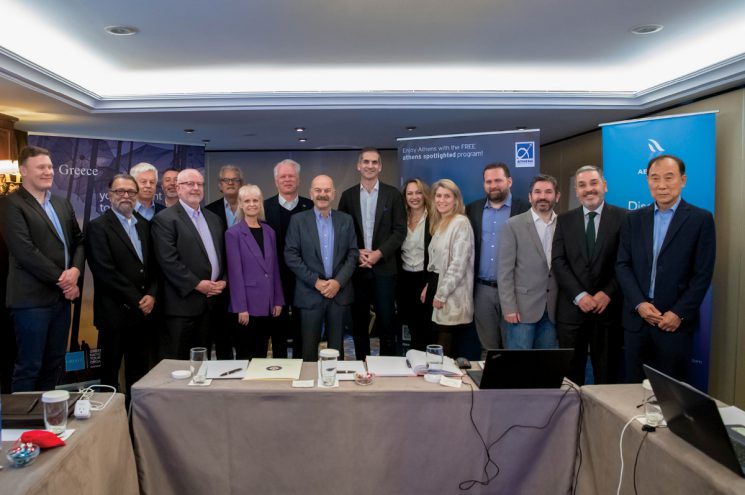 Agreement for joint initiatives in Greek tourism signed by the Municipality of Athens, EATA, HATTA and FedHATTA
The General Assembly of the World Travel Agents' Associations Alliance (WTAAA) took place in Athens on November 28 and 29, 2022. WTAAA is the global body representing travel agencies and tour operators, and has a membership of the largest tourism associations from five continents.
Representatives of organized tourism from Canada, Australia, South Africa, the USA, Europe, Latin America, South Korea, Hong Kong, India and New Zealand attended the event for global organized tourism hosted for two days in Athens. Participants discussed international trends in the tourism market, the arrangements required to solve issues concerning the tourism industry worldwide, the search for a modern way of approaching and informing the international traveling public, but were also informed by the Air Committee, Technology Committee and Sea-Land Committee on the latest issues in these fields.
During the first day of the WTAAA General Assembly, on Monday, November 28, the proceedings of the meeting were opened by the Mayor of Athens, Kostas Bakoyannis, who welcomed the members of the global organization to Athens, underlining that it is a welcoming city that combines the past and present and is always ready to welcome large events and travelers from all over the world. Mr. Bakoyiannis mentioned, among other things, that Athens is ready for the post-Covid era, with a dynamic that brings has placed it at the top of preferred destinations among international travellers.
A presentation was made on the first day of the assembly by GNTO with the "Greekend" video, in collaboration with EATA and Aegean Airlines. Subsequently, in the context of the organization of important events for the benefit of Greek tourism, the Municipality of Athens, the development and promotion company EATA, HATTA and FedHATTA signed a Cooperation Agreement, for joint tourism promotion. The signing took place in the context of the WTAAA General Assembly to mark the beginning of a series of steps, which will give impetus to the extroversion strategy and contribute to the opening of international tourism markets.
As part of the WTAAA members' program, the new digital publication created for Athens by HATTA and the Federation was presented, which contains informative material, photos and videos, with the aim of being used by tourism professionals and the traveling public. The digital publication is already online and is dedicated to the specific event.
Athens was chosen to host the WTAAA General Assembly, in order to stimulate the cooperation between the organization and the Greek travel industry. The event was organized by HATTA and FedHATTA, with the valuable support of GNTO, the Municipality of Athens, EATA, Athens International Airport and Aegean Airlines.
This event follows the completion of the semiannual conference of the leading European body in organized tourism, ECTAA, which took place on November 23-25 ​​in Thessaloniki and then as a post tour on November 25-27 in Thessaly, and highlighted the central role of travel agencies in the travel industry, but also Greece as a champion of recovery in organized holidays from abroad.